Learn about ingredients for the production of functional foods
2023-06-19T12:40:51-04:00
2023-06-19T12:40:51-04:00
http://saothieny.vn/en/news/production-materials/learn-about-ingredients-for-the-production-of-functional-foods-17.html
/themes/default/images/no_image.gif
SAO THIEN Y ORIENTAL PHARMACEUTICAL JOINT STOCK COMPANY
http://saothieny.vn/uploads/logo.png
Functional foods are health-supporting products that are not too strange. The raw materials for the production of functional foods are one of the important factors affecting the quality of dietary supplements.
About ingredients for the production of functional foods
What are functional foods?
According to the Vietnam Association of Functional Foods: " Functional food is a food (or product) with or without nutrition that has a supportive effect (restores, maintains, or enhances)
function of organs in the body, making the body comfortable, enhancing resistance and reducing the risk of disease.
Functional foods generally have the following characteristics:
Produced according to the recipe.
(It is possible) to get rid of blemishes and add beneficial substances.
Affects one (or more) bodily functions.
There are many more health benefits than basic nutrients.
The main ingredients are mainly from nature such as plants, animals and minerals.
Can be used regularly and continuously without side effects.
What are the ingredients for the production of functional foods?
Raw materials for the production of energy foods can be simply understood as the ingredients used and processed by the manufacturer to produce finished food products.
Classification of TPCN raw materials
Raw materials for domestic food production.
Raw materials for dietary supplements for export (mainly essential oils or extracts).
According to origin, origin
- Herbal and natural ingredients
Vietnam is a country with a tropical monsoon climate with diverse vegetation. It is a diversified source of raw materials for the production of pharmaceuticals and dietary supplements.
The main raw material supply regions in our country are: Northern mountainous region, North Central region, South Central region, Central Highlands and sea and islands.
There are about 4000 kinds of plants, more than 400 kinds of animals and about 75 kinds of minerals that have been used to produce medicines and dietary supplements.
– Planting materials and regional planning
In addition to raw materials available from nature, areas of materials for farming are also developed to serve the growing production demand.
In foreign countries, large industrial food groups have invested in building their own raw material areas to ensure the best quality of raw materials.
In our country, there are also many areas where planting materials are concentrated, especially with rare and precious materials.
- Imported material

In addition to domestic materials, imported materials are also one of the important sources of supply. Commonly imported ingredients are extracts (turmeric, basil, garlic, lemon ..), boswellia...
The role of raw materials in the production of dietary supplements
In any product, especially dietary supplements and health care products, ingredients play an important role in influencing the overall quality and effectiveness of the product.
Therefore, the selection of raw materials, assessment, inspection and quality control of raw materials are one of the very important stages in the production of dietary supplements.
Normally, the process of verifying the source of TPCN raw materials takes place as follows:
Evaluate raw materials from suppliers.
Take samples for testing and evaluation against prescribed standards.
10 criteria for evaluating ingredients for functional food production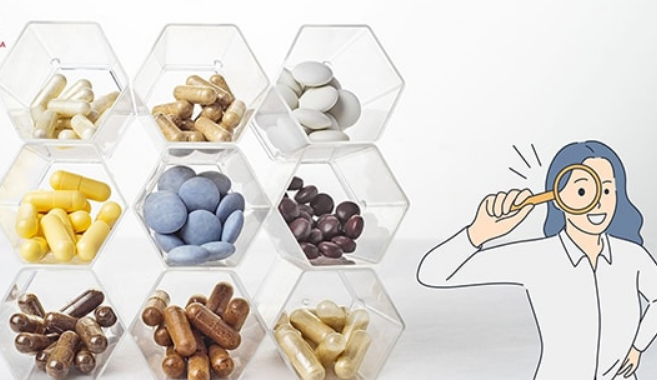 Food supplement materials must ensure a clear origin, have sufficient testing papers and certificates to allow circulation and use, especially for imported materials.
Raw materials must be tested and evaluated carefully according to the standards for each type of material according to the regulations of the supplier, the Ministry of Health and other standards.
The raw materials used are not on the list of banned substances according to the State's regulations.
The raw materials used must be stable, reaching the standard indicators of physical and chemical, pH, density, microbiology, moisture ...
Raw materials for the production of functional foods must meet GMP standards and have a paper document issued by the Food Safety and Hygiene Department.
The production unit must conduct inspection and ensure that the source of raw materials meets the standards before being put into the product and periodically check according to regulations.
Food supplement raw materials must have quantitative and qualitative standards together with test methods given by the supplier.
The ingredients must be ingredients and active ingredients that have been recognized as beneficial to health according to Vietnamese and international standards.
Raw materials must be within the expiry date, fully labeled and packaged in accordance with regulations.
The supplier of raw materials must ensure that there are sufficient documents to certify the quality of the source material.